LAS VEGAS PET PHOTOGRAPHY EXPERIENCE
Pet photography sessions capture your pets unique personality and the special bond between the two of you. The images created during the session are great for wall portraits, albums, holiday cards, save the date cards. You can celebrate important milestones in your pets life (birthday, bark mitzvah...). I will tailor your pet photography session to meet your goals.
Invest in your family
Our story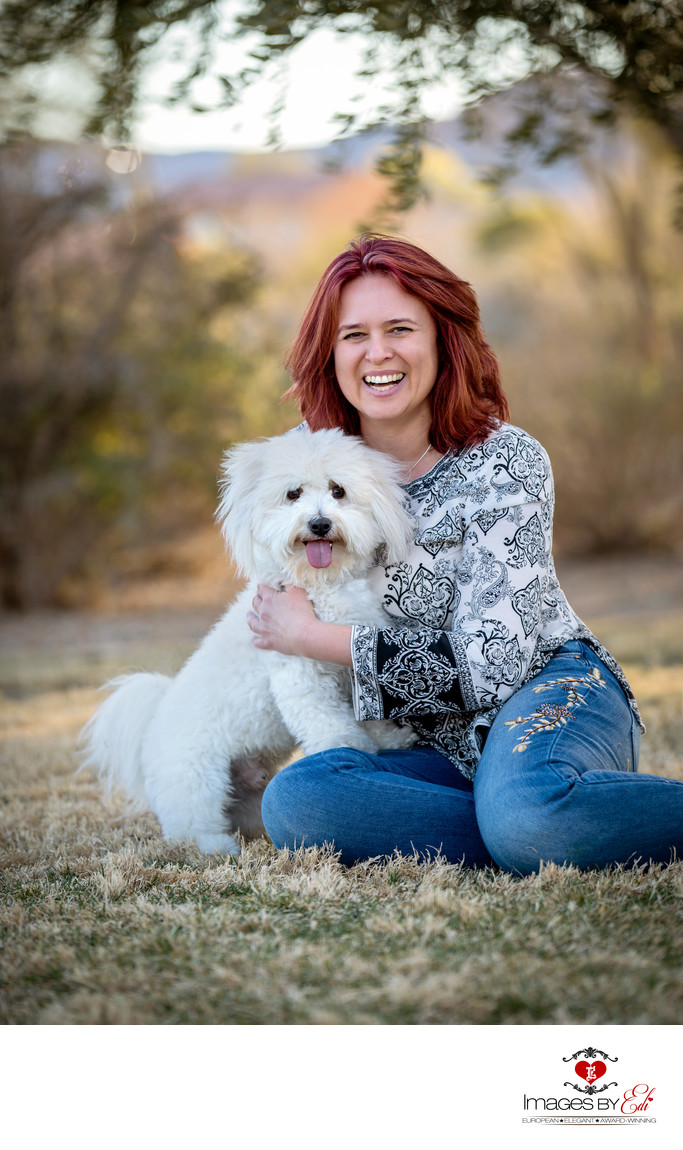 My journey of photographing pets started in 2018, after bringing my coton de tulear puppy home. After a little help from my Facebook friends, I named him Fluffy. I started to document his growth to adulthood through photos. For friends and family who wanted to see fresh photos of Fluffy, I opened an Instagram account for him. I have been a professional photographer since 2004, but the idea started to add pet photos into my portfolio in the beginning of 2019. My pet photography business was born. I feel very passionate abut photographing pets.


Do you come to me or do I go to you?
My studio is the great outdoors, so in most cases we will meet at the location of your session (parks, trendy downtown location...) unless we need to do the session in your home because of your dogs age, health or temperament.
When are the photography sessions scheduled?
Because of the Las Vegas heat and the quality of the light, the sessions scheduled around sunrise and sunset. (at sunrise or two hours before sunset) These times vary, depending on the time of the year. Indoor photography sessions in your home can be scheduled any time of the day.
When should I book my pet photography session?
I am usually booked a few weeks ahead. During the holiday season (September-December) it can be 4-6 weeks. Since I accept a limited number of pet photography sessions, I recommend reserving your date and time as soon as you can.
PRICING
Costume Outdoor adventures
to show your puppy's happy and sweet personality (most popular option)
Creative/creation fee: $295
Includes
* up to 2 hours portrait session at a location of your choice outdoors in the Las Vegas Valley or indoors at your home
* Your session includes 2 pets and 2 adults from the same household
* best 25 professionally edited images from your session to select from
* Its' due the time of booking to reserve the date and time for your session
* It covers the time and talent of the photographer
* It's not refundable, but can be transferred to a different available date
* Wall arts, albums, digital files are available to purchase a la carte or in collections
* 50% of the Creative/creation fee turns into a product credit
Celebrity VIP session
Mini Outdoor sessions
Puppy milestones - Growing Up
Celebration of Life session
It designed for pets who advanced in age or diagnosed with a terminal condition, so you can keep the beautiful memories you created together last forever.
Session begins at $200 and includes an 8x10 print
* These sessions are usually scheduled in your home, since most pets can't travel with their condition. If there is another location in your mind please let me know.
* Due to the nature of these sessions, they are prioritized. Please contact as as soon as possible if you are interested booking this time sensitive sessions.
magic dogs possess thru isul imagery
We can remove leashes can be removed from the photos, but harnesses and collars are not.
Make sure that your dog is wearing one what you are happy with.
I am thinking about being in some of the pictures. What to wear?
If you would like to be in a couple of photos with your puppy, please make sure that you are
* wearing a solid color tops, instead of busy patterns
* wear a color which contrast from your pets colors, so they dont blend into your clothing
* Families wear clothes in the same color family
* avoid white sneakers and white socks
Prints and digital files are priced separately and not included with the initial session fee.
Wall Art starts at $250 and albums start at $650.

I work with all different budgets, homes and styles, but to give you a rough idea, Mini Session clients usually invest between $500 - $900 and Full Session clients usually invest $1500+ in their finished artwork.

Credit card payments and flexible, interest-free payment plans are available.
Are you ready to have your wall art of your beloved pet be displayed in your house?
Choose your session and contact us now to get started.