LAS VEGAS ELOPEMENT AND MICRO WEDDING PHOTOGRAPHER
My name is EDI and I am the most popular award winning Las Vegas Elopement and micro wedding Photographer.
Elopements are awesome! I am glad you are Here! Las Vegas is an ideal location and the most popular city for elopements and micro weddings.
As a Las Vegas wedding and elopement photographer I have been photographing Las Vegas elopement since 2004. Created images for locals and couples from all around the world who wanted an intimate, luxurious experience!
Whether you would like to get married at the City Hall or a downtown or Strip wedding chapel and have a photo session after, I am your photographer!
I know it's stressful to plan a Las vegas micro wedding or elopement from the distance, so I decided to offer you tips from a Las Vegas local perspective and share with you the best elopement locations what Las Vegas offers.
If you're thinking of eloping, these photos will give you great ideas of different elopement locations in and around Las Vegas and how to plan a perfectly relaxing, stress-free wedding.
There's a variety of reasons why you might want to elope. For starters, you might want to do things your own way. Perhaps all you want is the two of you, a great location, and officiate, and a photographer. Maybe you just want to marry the love of your life in a location as beautiful as the Las Vegas strip. Planning a small wedding with only your close family and friends can be easier than you think.
Perhaps you got tired of the big wedding plans and decided, "screw it, we're going to Vegas!" You want stress-free wedding at a great location where you can also have your honeymoon and turn the whole thing into a vacation. Besides, you can always just organize a party for friends and family at home.
Whatever you're going for, Vegas is the perfect location. It truly is a city where you can make all your dreams come true. Of course, you'll also want a good Las Vegas Wedding and Elopement Photographer to capture that special moment.
WHAT ARE MODERN ELOPEMENTS AND MICRO WEDDINGS?
Probably easiest to define them by the size. They are both intimate weddings by nature. Elopements usually includes the couple and a handful of guests or just the couple.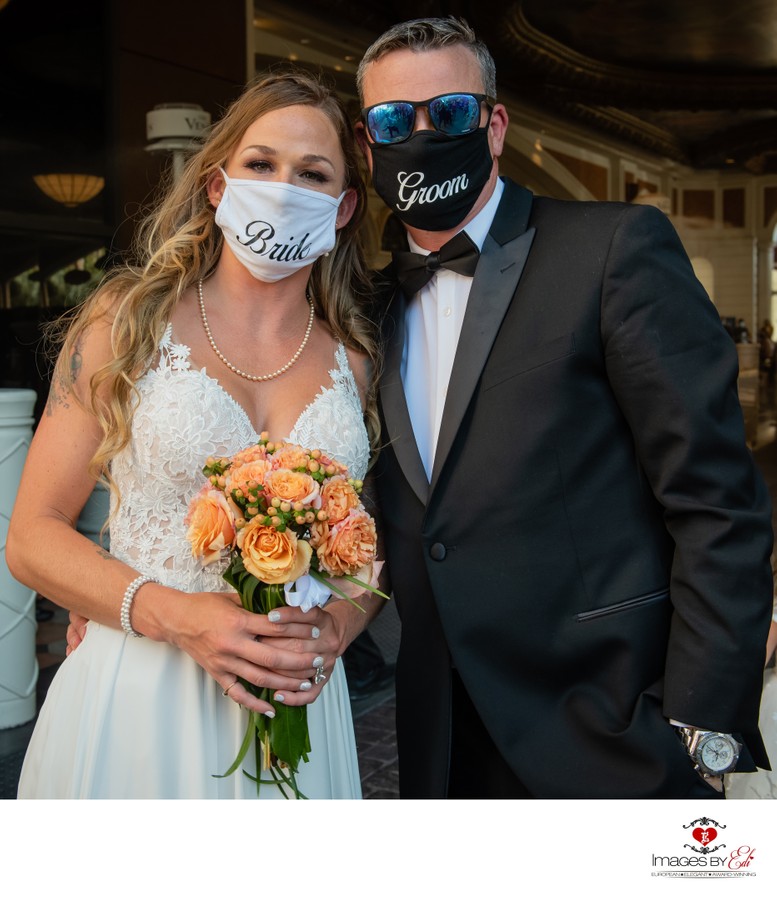 Covid-19 changed the wedding scene and forcing us to learn the term "Micro weddings".
Micro weddings are usually less than 30 people (including your vendors). But it's more about the mindset, the intimate experience. You can invite people who are the closest to you and spend quality time with them. It gives you the ability to keep elements of a traditional wedding with a smaller guest list. Micro weddings usually keep the flow of a "regular" wedding. Having fewer guests means, you can be more creative and spend your budget on flowers, your dress, entertainment, photography and videography coverage.
My schedule fills up on a first come first serve basis. Either you have been planning your wedding for a year or just decided to elope to Las Vegas with a handful of guests or just the 2 of you, as soon as you have your plan, contact me and we can get your Las Vegas Elopement booked.
CAN YOU HELP ME FIND OTHER VENDORS?
Yes, If you need a wedding planner, officiant, videographer, hair and make-up, I got you. Everyone on my list I have worked with (usually several time before) and happy to recommend them!
NEED HELP SELECTING A LAS VEGAS ELOPEMENT LOCATION?
Las Vegas has an amazing variety of elopement locations to choose from. You will fall in love with the local scenery and love how it is so different from what you have back home. As one of the top Las Vegas wedding photographers, I have had the privilege of shooting pictures at many beautiful places.
Whether you decide to tie the knot in a wedding chapel, on the Strip, in the park, on a party bus, in a backyard of a rented property, or just want to have a photo session after your ceremony, Images by EDI is your perfect choice for your Las Vegas elopement.
Please check out our favorite Las Vegas Elopement locations.